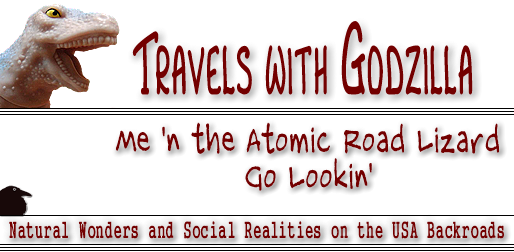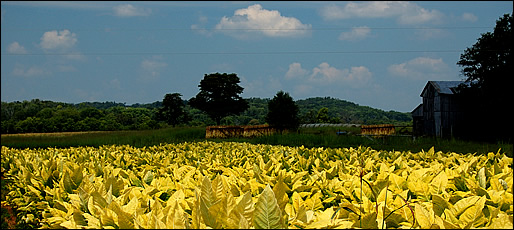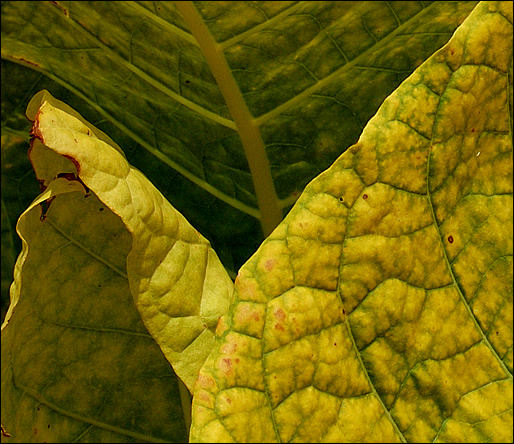 A tobacco field and ripening leaves
north of Kentucky Route 80 to the west of Bowling Green.
By the Hand of Man.

Thursday, August 27, 2009
Benton, Kentucky
Harvest time is infused with an energy all its own: purposeful, grounded, sustained, and edged with anticipation of reward. In southern Kentucky, between the Daniel Boone National Forest to the east and the Tennessee River to the west, the harvest of tobacco is fully engaged and a wondrous sight to behold.
Bring tobacco to market is the job of men more than of machines, of manpower more than horsepower.
In almost every barn along the rural state highways and county roads winding through Kentucky farm country, the tips of just harvested leaves can be seen hanging out to cure. In front of many of those barns today, I saw a ragtag fleet of light trucks, each pulling an open flatbed trailer loaded with stacks of just-cut stalks, arriving to deliver the ripened bounty to a squad of farm hands, who speared the plants with stakes and hung them from the rafters. In nearby fields, other hands were moving through the tobacco rows, chopping stalk after stalk to be ready for the trailer's return.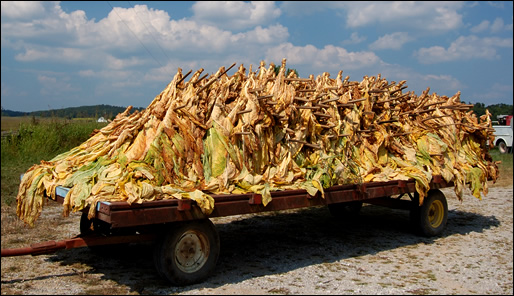 A load of tobacco on the stalk
awaits placement in one of the Draper Farms curing barns
to the east of Hopkinsville on Kentucky 507.
Tobacco demands a hands-on approach on the part of many hands, but it's usually worth the effort and the cost of labor. A hundred acres of tobacco can produce a profit equal to a thousand, maybe two thousand acres of corn, beans, or rice.
"Every plant you see is handled hundreds upon hundreds upon hundreds of times before it ready for market," Gary Crunk of Draper Farms told me this afternoon in front of one of the curing barns on Kentucky 507 a few miles east of Hopkinsville. "You set it, plant it, side dress it, fertilize it. After it flowers, you top it. On dark tobacco, you oil it to prevent a second bloom. You cut it, hang it to cure, then strip it and bundle it for market."
OK, I admit it. The quote is not exact. The pencil taking my notes couldn't keep up with Gary's explanation of the process. He was talking fast because everyone around us was working fast. Loaded trailers were beginning to line up in front of the barn. The fact that Mr. Crunk took a few minutes to chat right in the middle of the workday was a courtesy I mightily appreciated. There were other steps he mentioned, some involving the burley tobacco used for smoke, others appropriate to the more costly dark tobacco appropriate for chew and snuff, but I got the idea. Tobacco farming is totally labor intensive.
"That's why you can't raise that much," Gary said. "But that's also why tobacco is so valuable."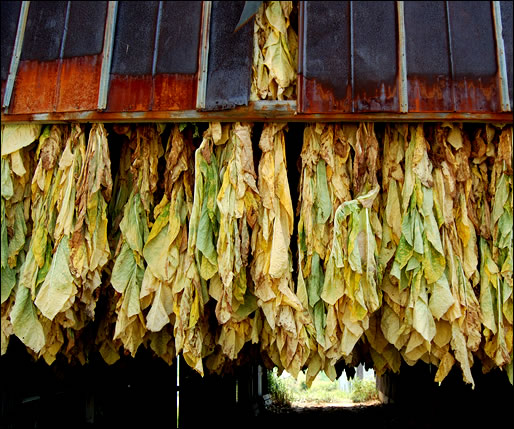 Tobacco hanging out to cure.

The harvest in southern Kentucky began about two weeks ago and will continue until the first frost. Seedlings were planted in greenhouses in February, and then set into the earth in late April and early May.
Draper Farms doesn't depend entirely on tobacco for its livelihood. Beans and corn also grow on the fertile family fields. Given tobacco's uncertain future, diversification makes good business sense.
"It's only a few places left that farm tobacco," Mr. Crunk said. "In many ways it's a thing of the past. I told my son that he's probably the last generation that's going to see tobacco growing in these fields."
Maybe, but maybe not. Undeniably, Americans are smoking less and less as the campaign to eradicate the habit continues its relentless march toward the attainment of a pure and healthy life for all. But demand for chew and snuff are rising here in the homeland. And there's a vast planet of peoples and cultures beyond the borders who are smoking with unabashed gusto. Like many of life's guilty pleasures, tobacco has a staying power based in primal desire that public health propaganda and steep taxation are not likely to quench anytime soon.
Ah, the first puff of a morning on that old Lucky Strike. How fondly I remember.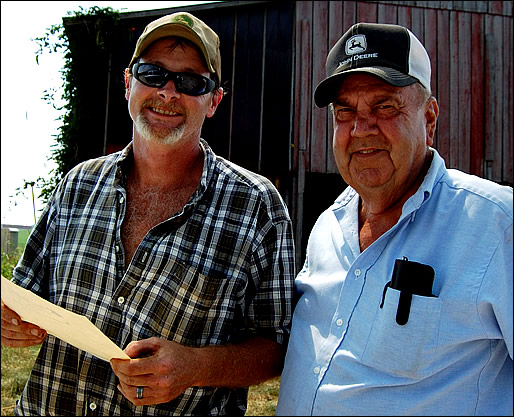 Gary Crunk (left) of the Draper Farms family
stands next to lifelong tobacco farmer Stykie Lacy
outside one of the curing barns.




Godzilla sits at the feet of wise old Crambrook, a 1952 Plymouth,
in a grassy field on Kentucky Route 1824 between Murray and Benton.
Crambrook was pontificating on the rules of the road,
the advantages of carbureted acceleration,
faraway western highways and how fast they feel under foot,
and the delicious taste of leaded gasoline
to his younger companion, who said later she was enthralled
and wished we could have bought old Crambrook
and taken him home with us all the way back to Crow's Cottage.



To read the previous dispatch in the narrative,
kindly click the crow!

Notices of new dispatches from my Travels with Godzilla are sent by e-mail express to my list of family, friends, students, and fellow travelers. If you've come here by some other means than an e-mail invitation, and would like to receive notices, please write me so I can add you to the list. I share the addresses with no one but Godzilla, who can't type and doesn't do e-mail.
Ebenezer Bowles
threadspinner@corndancer.com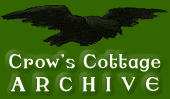 ---

---

---

---

---

---

---

---

---

---


The stories
linked below
form the narrative "Travels with Godzilla."

The Journey Ends:
Bye, Buck Bowles.

Dispatch Eighteen
Fayetteville,
Arkansas
Monday, August 31

Tobacco:
By the Hand of Man.

Dispatch Seventeen
Benton,
Kentucky
Thursday, August 27

Shy and Wonderful:
In Pursuit
Of the Wild Image.

Dispatch Sixteen
Bowling Green,
Kentucky
Wednesday, August 26

Mullens
It Wasn't the Flood.

Dispatch Fifteen
Williamson,
West Virginia
Tuesday, August 25

What Coal?
So Many Mountains
They're
Giving Some Up.

Dispatch Fourteen
Beckley,
West Virginia
Monday, August 24

Illustrated Man:
Pay Is Pay
On the
Honorable Path.

Dispatch Twelve
Morgantown,
West Virginia
Saturday, August 22

Which Road?
Counting the Lanes.

Dispatch Eleven
Bel Air,
Maryland
Friday, August 21

An Easy Puzzle:
Shade Drenched,
Flat and Tidy.

Dispatch Ten
Seaford,
Delaware
Thursday, August 20

Sea Cruise:
A Fine Old Motor Vessel Makes a Smooth Crossing from Jersey to Delaware.

Dispatch Nine
Seaford,
Delaware
Wednesday, August 19

Mighty Joe:
From the River Valley To the Sandy Pine Barrens On a Road to Heaven.

Dispatch Eight
Vineland,
New Jersey
Tuesday, August 18

Sugar Hollow Road:
Not too Far
down the Way
from Mehoopany.

Dispatch Seven
Scranton, Pennsylvania
Friday, August 14

Lucky Stars:
Godzilla Wrestles
a Bear.

Dispatch Six
Scranton, Pennsylvania
Thursday, August 13

Erie:
Off Balance, Agitated.

Dispatch Five
Erie, Pennsylvania
Tuesday, August 11

Purpose:
Success and Fear On the Sly Peripheral.

Dispatch Four
Kent, Ohio
Monday, August 10

Indiana:
You Want to Take Forever.

Dispatch Three
Howe, Indiana
Sunday, August 9

Army Truck:
Carry Me Home.

Dispatch Two
Watseka, Illinois
Saturday, August 8

Road Trip:
Go Fast.

Dispatch One
Muscatine, Iowa
Friday, August 7

---
---

---
---