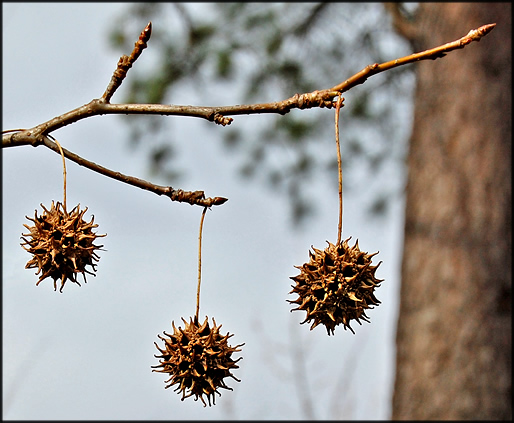 Sweet Gum Balls and Buds on the Last Day of Autumn
December 20, 2010, at Crow's Cottage

The Season Changes.

Thursday, January 6, 2011
Fayetteville, Arkansas
Nature arrives at her conclusions . . . . well, quite naturally. Just a while back, it was autumn. Now it is winter. The dividing line between the two can be marked and measured in several ways, but the result is always the same. Something ends. Another something begins. And we human players of the Great Game are caught up in the transition, no matter how we choose to mark, measure, and note the occurrence.
On the day astronomical autumn ended — if one chooses to view it sharply, as a precise point on the calendar and the clock — I walked into the garden in search of a few images that might be expressive of the time of transition. My ambition was to study the images, prepare a few for publication, and then create a companion essay about the passing of autumn. Like so many endeavors populating my universe of tasks and goals, the ambition fell to the wayside before it was brought to conclusion.
I pledged to get 'er done, the Letter from Crow's Cottage, but days passed — seventeen of them by present count — and when I awoke this morn after a night of severe dreams, I saw the stark January shadows of the four-pronged maple stretching o'er the cold earth. Autumn seemed a long ago thing.

The delay, standing against all good intent, tells me that life is running down, drifting into a darkening night of moonlit shoals and windswept eddies, refusing to yield to all entreaty for a temporal respite. Here at the cottage, the act of bringing things to a satisfactory conclusion rises to the level of stupefied challenge. Deadlines become slippery, more of an ideal than a necessity. Some things never get done.
Though I name blessings out loud most every night during family devotion in the big bed, I struggle with the spectre of loss. No matter how much good I identify — and life is good — I turn the next moment to face a nostalgic past, rent by unwont perceptions about things that didn't go the way I'd planned, or the way I wanted, or how I hoped them to go.
Too far down that track, and I get lost in senseless regret. I know it's against the rules of The Order, against the tenets of teachings I pledge to follow, but I am prone to commit the sin of regret. Those among us who proclaim they have none, No regrets!, continue to astound me.
Another track offers an ill-charted ride into a present morass, the swampland of Something's Missing, or some such similar metaphor tossed onto the page to indicate a deficit state of mind. Here I can look into the moment facing me, dead ahead, and see a scene not fully realized, a place where vitality and wholeness seem to be missing — but I do not care to define the place or give it a name, knowing it is neither safe nor prudent to speak directly to the devil or any of its minions.
Shouldn't I come to my senses and let love abide? Shouldn't I become the man with a name and a life, worthy of gifts from the merciful Creator? Shouldn't I dismantle the formidable and inelastic barriers guarding me from a cruel and disinterested universe of women and men?
I am mistaken. Truth is, all the power that ever was or will be is here now. I believe it to be true. Why, then, do I persist in seeing the world as a wasteland of loss, regret, and cruelty, negating the good and leaving me stranded and powerless?
But I'm here, too far down the page to go back and change things. All I wanted to do at the outset was to find some meaning in the change of seasons, go into the garden under the light of the sun in search of signs and symbols. Now, seventeen days later, I'm stuck on a side track a mile or two outside the place of satisfactory conclusion.
So, the not-so-satisfactory end is all I have to offer.
I found the bud of a maple hanging from a limb, gum balls on the pale horizon, little green fronds of an iris emerging from the brown earth. The images are presented here. That's all I can say about it. It had to be done. The last day of autumn is long gone.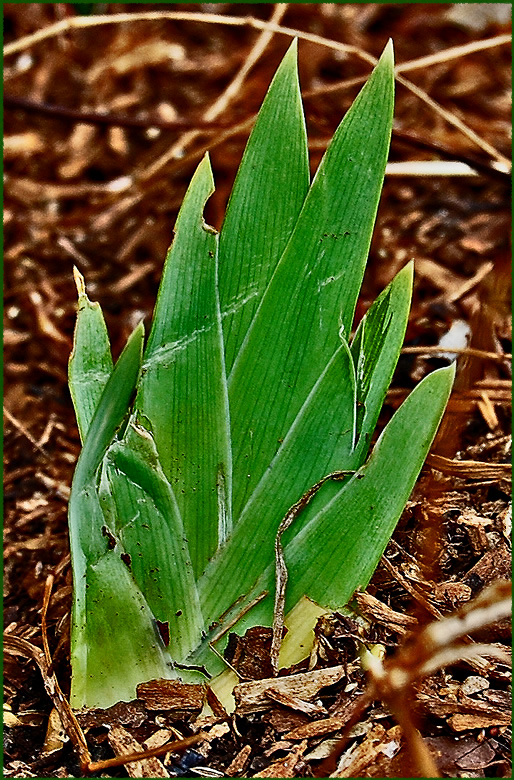 Fronds of an Iris on the Last Day of Autumn
December 20, 2010 at Crow's Cottage
Enlarged about 4x . . . . Actual size of the longest frond is only 4.5 cm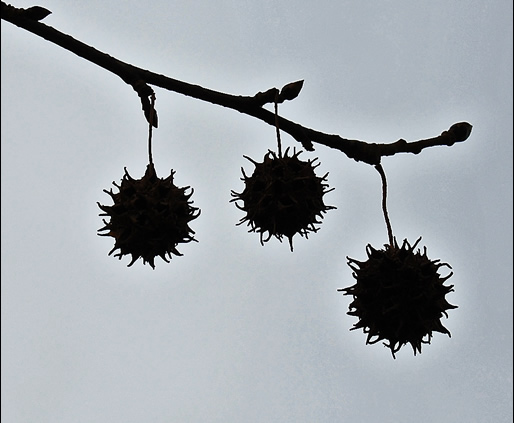 Sweet Gum Balls in Silhouette on the Last Day of Autumn
December 20, 2010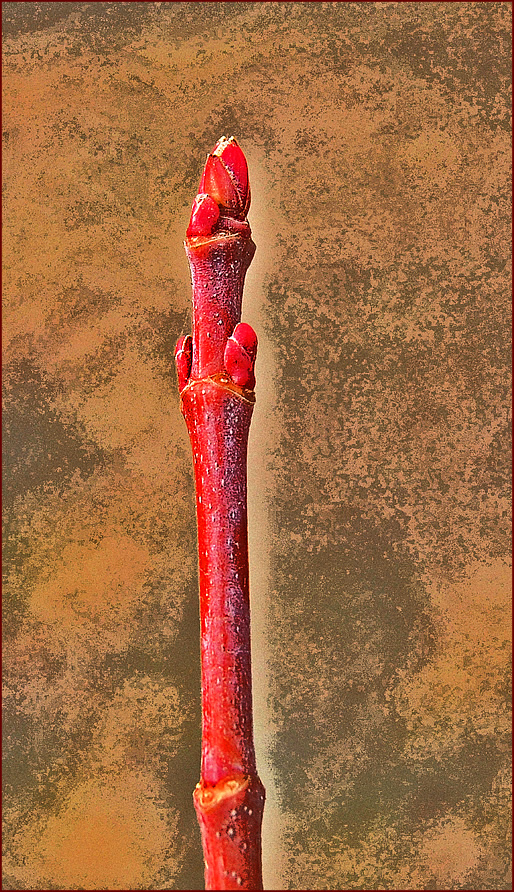 Bud of a Silver Maple on the Last Day of Autumn
The bud is about 3.5 cm long from bottom node to tip
December 20, 2010



Notices announcing the publication of each Letter from Crow's Cottage are sent by e-mail express to my list of family, friends, students, and fellow travelers. If you've come here by some other means than an e-mail invitation, and would like to receive notices, please write me so I can add you to the list. I share the addresses with no one but Godzilla the Atomic Road Lizard, who can't type, doesn't do e-mail, and won't tell.
Ebenezer Bowles
threadspinner@corndancer.com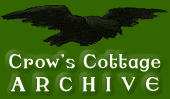 ---

---

---

---

---

---

---

---

---

---


---
---

The stories
linked below
form the narrative "Travels with Godzilla."

The Journey Ends:
Bye, Buck Bowles.

Dispatch Eighteen
Fayetteville,
Arkansas
Monday, August 31

Tobacco:
By the Hand of Man.

Dispatch Seventeen
Benton,
Kentucky
Thursday, August 27

Shy and Wonderful:
In Pursuit
Of the Wild Image.

Dispatch Sixteen
Bowling Green,
Kentucky
Wednesday, August 26

Mullens
It Wasn't the Flood.

Dispatch Fifteen
Williamson,
West Virginia
Tuesday, August 25

What Coal?
So Many Mountains
They're
Giving Some Up.

Dispatch Fourteen
Beckley,
West Virginia
Monday, August 24

Illustrated Man:
Pay Is Pay
On the
Honorable Path.

Dispatch Twelve
Morgantown,
West Virginia
Saturday, August 22

Which Road?
Counting the Lanes.

Dispatch Eleven
Bel Air,
Maryland
Friday, August 21

An Easy Puzzle:
Shade Drenched,
Flat and Tidy.

Dispatch Ten
Seaford,
Delaware
Thursday, August 20

Sea Cruise:
A Fine Old Motor Vessel Makes a Smooth Crossing from Jersey to Delaware.

Dispatch Nine
Seaford,
Delaware
Wednesday, August 19

Mighty Joe:
From the River Valley To the Sandy Pine Barrens On a Road to Heaven.

Dispatch Eight
Vineland,
New Jersey
Tuesday, August 18

Sugar Hollow Road:
Not too Far
down the Way
from Mehoopany.

Dispatch Seven
Scranton, Pennsylvania
Friday, August 14

Lucky Stars:
Godzilla Wrestles
a Bear.

Dispatch Six
Scranton, Pennsylvania
Thursday, August 13

Erie:
Off Balance, Agitated.

Dispatch Five
Erie, Pennsylvania
Tuesday, August 11

Purpose:
Success and Fear On the Sly Peripheral.

Dispatch Four
Kent, Ohio
Monday, August 10

Indiana:
You Want to Take Forever.

Dispatch Three
Howe, Indiana
Sunday, August 9

Army Truck:
Carry Me Home.

Dispatch Two
Watseka, Illinois
Saturday, August 8

Road Trip:
Go Fast.

Dispatch One
Muscatine, Iowa
Friday, August 7

---
---