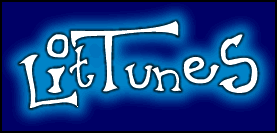 A
Blast
from the
Past Adds
Spice to the
Current Hot Topics.

Two Measures Ahead,
One Fleeting Glance at the Fading Notes.
A Time for Preview, Reflection.
By Christian Z. Goering
Fayetteville, Arkansas
February 27, 2013
I write today as we wrap up the first two months of 2013. The dawn of the twenty-teens still feels a little strange though, a little like a song played with an instrument slightly out of tune. Maybe each year feels that way. As 2013 progresses toward spring, there are newsy items all around me in terms of music and the teaching of English, so I thought it would be worthwhile to post a LitTunes preview and reflection.
---
Finding Reason for Hope
in Mentorship and Internship.
Burgundy Gets to Teach.
By Christian Z. Goering
Fayetteville, Arkansas
September 25, 2012
When Burgundy Anderson started teaching eighth grade last year, she quickly thought of her seventh grade teacher and the various examples of using music and video clips from her schooling experience. When I asked Ms. Anderson why she so quickly turned to music to challenge her pre-AP class and provide scaffolding for her on-level eighth graders, she offered that, "It's two of my very favorite things in the world, music and literature. Perhaps the only thing that could make it better would be having a Reese's in the middle."
---
The Genesis and Meaning
of a Song Inspired by Literature
Dreaming Dirt Music
and the Hope for Grace....
By Christian Z. Goering
Fayetteville, Arkansas
May 5, 2010
Shortly after I began playing bass guitar with my friend Aaron Traffas in 2005, I learned a couple of things about myself: I probably wasn't going to be the next big thing as a musician, but all the same I wanted to produce a record of original music to, as Neil Young sings, "leave tracks in the sound."
---
A Directed Reading
of Steinbeck's Of Mice and Men
Illustrates the LitTunes Approach to Literacy.
Help from Our Friends....
By Christian Z. Goering
Fayetteville, Arkansas
September 10, 2009
When LitTunes co-founder, webmaster, and editor, Ebenezer Bowles, presented me with an idea last summer, I knew I had to make it happen, and quick. A deadline for a now published chapter was passing and his suggestion of having my pre-service teachers read and connect to Of Mice and Men was an approach I was sure would be engaging, a solid strategy for future teachers to practice, and a pursuit which would allow a few graduate students an opportunity to delve into the world of professionalism by co-authoring a book chapter with me.
---
10 Questions about Music and Literacy
Lead 'Mr. Alan' into
Fascinating Areas of Inquiry.
Let's Do the Hip-Hop.
By Christian Z. Goering
Fayetteville, Arkansas
May 7, 2009
A fresh, intriguing, challenging, and get-real voice for sensible change in school and schooling is Alan Sitomer. "Mr. Alan," as his inner city Los Angeles students call him, is a popular circuit speaker, an acclaimed teacher, and an articulate advocate for innovation and student-centered literacy initiatives. In an interview with LitTunes' Christian Goering, Alan discusses Hip-Hop in particular and pop music in general, and illustrates how tunes can help teachers engage students in the English language arts classrooms.
---
Conference about Pop Culture
at New Orleans Aligns with
Educational Goals of LitTunes.

The Right Notes
By Christian Z. Goering
Fayetteville, Arkansas
April 22, 2009
New Orleans hit all the right notes in its role as host city for the joint National Conference of the Popular Culture and American Culture Associations (April 8 through 11). After all, a conference about culture — American and popular — should feel at home in a city full of past and present influences. From food to fashion and music to mimes, both the city and the conference proved eclectic and vibrant—recharging my spirit and feeding a thirst for knowledge.
---
LitTunes Readers Examine Issues
Raised by Our Challenge
to Traditional Methodology.
The Class Set Revisited
By Christian Z. Goering
Fayetteville, Arkansas
January 16, 2009
Two months ago I contributed an essay
to LitTunes which examined the teaching of the whole-class novel. I originally hesitated to post it, afraid some of the opinions asserted in the text would turn away readers, perhaps prompting "unsubscribe" demands or letters of objection.
---
Critiquing the Whole Class Novel:
How the Class Set Conspires
To Produce Poor Readers.
Reset the Class Set
By Christian Z. Goering
Fayetteville, Arkansas
November 3, 2008
Ivy and Fisher's question about the "class set" is worth our full consideration. For teachers, it brings to light fundamental issues of tradition and change in the English Language Arts classroom, and begs other questions: What models do we employ to teach reading and literacy, and how closely should these efforts be aligned to the set of novels in our traditional literary canon?
---
An Innovator from Back in the Day
Shares a Tale of Teaching
Classic Lit through Pop Songs and Ballads.
Take the Plunge
By Michael Meyer
Chicago, Illinois
September 9, 2008
When I first discovered the Lit Tunes website, I was excited and pleased to learn that a young scholar, Chris Goering, was attempting to make connections to popular culture and to tap into the minds of today's students. It was not a concept unfamiliar to me since I tried it myself in the early 1970s, some thirty years before Chris's website and certainly before the age of computers and the internet.
---
Embracing the Revolution
in Digital Communications
in the Land of Saguaros and Desert Rain
The Whole Language
By Suzanne E. Oertel
and Christian Z. Goering
Tucson, Arizona
July 2008
With a breathtaking view of the desert cacti
on the horizon, we looked out the conference hotel's two-story windows and thanked our lucky stars for the splendid setting. We had come to Tucson to present our ideas about innovative approaches to literacy. We also came to network, to learn, and to gain fresh perspective on our work in literacy education.
---
Joyce and Cobain vs. Woolf and Young:
Modernist Fiction and Rock Music
Open Connections between Issues of Youth,
Aging, Suicide, and Passion for Life.
Keep the Passion.
By Jerrod E. Bohn
Fort Collins, Colorado
July 4, 2008
Teaching the great modernist writers can be
a daunting task in a high school setting. Published nearly a century ago, the works of James Joyce and Virginia Woolf increasingly risk being viewed as irrelevant by today's students. In addition to the movement's age, modernity in literature challenges today's young readers with chaotic issues of style, voice, syntax and form.
---
School's Out! Time to Think about
Our Accomplishments and Prospects.
Summer Concert Series
By Christian Z. Goering
Ridgway, Colorado
May 26, 2008
Imagine the audience, abuzz and chanting
in front of the stage as overhead lights dim and then fade softly into the twilight sky. Another customary pre-concert tune is roaring from the speakers, but it ends abruptly, heightening the excitement. Scurrying back and forth across the stage, roadies clad in black t-shirts and grungy jeans put the finishing touches on an impressive collection of amplifiers and guitars, drums and cymbals, horns and microphones.
---
Eco-Friendly Messages
in the Lyrics, Music, and Film
of Neil Young's Musical Novel Greendale
Be the Rain
By Christian Z. Goering
Fayetteville, Arkansas
March 5, 2008
mother earth has many enemies
there's much work to be done
Neil Young's poignant lyrics and edgy
high voice have been enfolded in popular culture for nearly five decades. Throughout his ground-breaking musical career, he has advocated for the environment, protested the Vietnam War, criticized the American government on multiple fronts, and most recently led protests against the war in Iraq.
---
Is the World
Too Much with Us?
So Very Human
By Christian Z. Goering
Queen Creek, Arizona
January 8, 2008
"I got a computer fits the palm of my hand," complains Brandon Jenkins in his 2004 song, "The Whole World's Gone Crazy." My Blackberry TSM 8830 fits snuggly in my palm, has the ability to surf the net, sends and receives e-mail, and functions as a telephone. Talking on a Blackberry is a bit like holding a phone book up to my head, but it serves several purposes, and serves them well. Chiefly, it keeps me in touch with this world.
---
Discussing Song Lyrics Helps Students
Open Connections to Literary Concepts.
Daily Headlines
By Barbara Jaquish
Fayetteville, Arkansas
November 28, 2007
A former high school English teacher
turned literacy researcher at the University of Arkansas says that discussing song lyrics in the classroom can help students connect in multiple, complex levels with traditional literature. Christian Z. Goering now hosts a Web site for teachers to share links between literature and lyrics.
---
The Path to Literacy
Follows the Beat of a Favorite Pop Tune
The Advocate
By Christian Z. Goering
Fayetteville, Arkansas
November 15, 2007
Sarah ran out of the classroom that day
in tears. It was 1989 in rural Kansas — and I felt a rage usually directed at my step-mother or anyone who called me fat. What had happened to ruin such a promising day?
---


LitTunes was launched in 2007.
We invite you to come back often.
You are warmly invited to participate, too.
Contact Chris Goering by E-mail at chris@littunes.com